"What can you actually find out about the person or company named on an 19th century bottle?" In many cases, the answer is not much, or at least not much besides what a genealogist might find out.
I ask you to think about small business owners who you know in your town or neighborhood. How much really is written or published about them? Consider that in the 19th century, there was no such thing as a human interest article in a local paper. Many companies did not print much in the way of advertising – they relied on their local market to sell their goods. In short, it can be a major research effort to find any information.
Some sources of information:
The town / city historical society
The town's library
City directories which often contained ads for businesses. Use to find when someone was in business. Find where business was located. If you get lucky, the ad may say something about the products sold.
State historical societies
Published genealogies.
Sanborn Fire Maps. Available back to the 1880s. Maps show precise diagrams of buildings on properties with property boundaries. Owners of properties are listed.
DIY genealogical research. Start with familysearch.org and ancestry.com
Books on antique bottles. There are lots of specialty books on bottles. Many are out of print. Many are not found on Amazon or book stores. You need to do some digging online to find what you need. Check ebay.com. Check abebooks.com
Auction catalogs. Some bottles, especially those of significant value, get special consideration in auction catalogs. Both American Glass Gallery and Glass Discoveries have done some great work in this regard.
Collectors of local bottles for your town, city, state or region.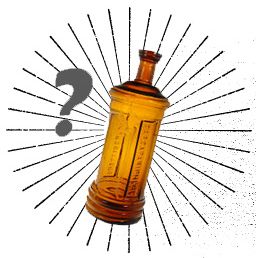 Got A Question about Your Bottle?
Ask it on our Discussion forum