Q: I would like to find out first whether you can help me before submitting an appraisal
A: Please submit the appraisal form. We never charge for evaluating an item that we are not familiar with or cannot provide an appraisal.
Q: I submitted my appraisal but have not heard from you.
A: Chances are that you did not include payment. We must have received payment before releasing appraisal results.
Q: I just have a simple question. I don't feel I need an appraisal.
A: We regret that we cannot answer all the email that comes to us and are unable to provide free information. Please use our appraisal system for prompt and professional answers.
Q: I don't feel comfortable sending credit card information over the internet.
A: PayPal is entirely secure and used by millions of people online – at this time, it is the only online payment service that we offer. You can mail us payment; see address below.
Q: How soon will I hear back from you?
A: We usually are able to respond within 3 business days (weekends and holidays excluded). In some cases, it is necessary for us to make inquires and do further research which takes longer. We will contact to let you know your appraisal is in process.
Q: I would like a response in writing instead of email.
A: For written responses, please address your appraisal to Historic Glasshouse, PO Box 309, Plymouth, NH 03264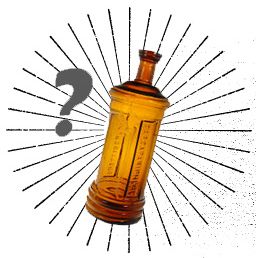 Got A Question about Your Bottle?
Ask it on our Discussion forum