This exceptionally large square cabin-shaped bitters bottle is modern.  It was made in the 1970s for a North Carolina furniture company for use as a lamp.  Most are found with a hole drilled in the base.  They are usually seen in amber but also occasionally green.
The bottle reads DOC DUNNING / OLD HOME BITTERS / GREENSBORO N. CAROLINA  on three of the four indented panels. It is about 14″ tall with a 5″ square body.  You will find in listed in the Ring/Ham Bitters book as O34.
They are attractive and do make a nice lamp, but they are not particularly valuable.  Figure around $50 for a drilled example; more if undrilled.
The Originals
This is a reproduction of similar bottles with similar embossing.
First is O35 which is embossed OLD HOME BITTERS / WHEELING, W. VA. / LAUGHLIN & BUSHFIELD.  This is an amber cabin which is around 10″ tall.
Second is O36 which differs from O35 only in that it is marked LAUGHLIN / SMITH & CO.  This is apparently the earlier of the two original bottles.  This is also found in amber and is a bit under 10″ tall.
These two original bottles are worth $1-4 thousand.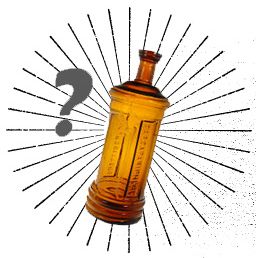 Got A Question about Your Bottle?
Ask it on our Discussion forum