Group I – Portrait Flasks
Numbers 1 through 61 are Washington Flasks
Numbers 62 through 79a cover Adams, Harrison, Jackson and Taylor
Numbers 80 through 93 are Lafayette
Numbers 94 through 98 are Franklin
Numbers 99 through 107a are Jenny Lind
Other portrait flasks are listed in molds 111 through 131
Group II – American Eagle Flasks
There are 144 molds in this group
Group III – Cornucopia Flasks
18 Cornucopia molds
Group IV – Masonic Flasks
There are 43 molds in the Masonic flask group.
Group V – Railroad Flasks
12 flasks
Group VI – Baltimore Monument Flasks
7 molds
Group VII – Cabin bottles
6 molds in this group
Tom Haunton officially extended this group and added molds as documented in his book, Tippecanoe and EG Booz, Too
Group VIII – Sunburst Flasks
There are 30 flasks in the sunburst group.
Group IX – Scroll or Violin Flasks
There are 52 in the Scroll group.
Group X – Miscellaneous Flasks
33 flasks include Good Game, Sloop, Murdock & Cassel, Summer/Winter, Jared Spencer, American System, Stoddard Flag among others.  This was the final group as documented in American Glass.  The following groups were added with the publication of American Bottles and Flasks and Their Ancestry:
Group XI – Pike's Peak Flasks
54 molds
Group XII – Shield and Clasped Hands
There are 43 molds listed in this group.  There are several unlisted flasks known.
Group XIII – Pictorial Flasks from the 1850 to 1880 Period
Includes over 90 flasks.    Flora Temple, Horseman/Hound, Sheaf of Wheat, Baltimore Glass Works/Anchor and others.
Group XIV – Traveler's Companion Flasks
9 flasks
Group XV – "Lettered" Flasks
These are mostly flasks with embossing indicating a particular glass works.  28 molds.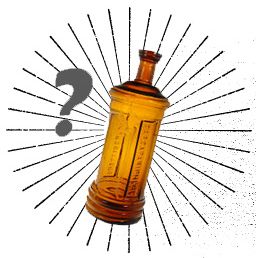 Got A Question about Your Bottle?
Ask it on our Discussion forum