There are 43 documented molds of 19th century American historical flasks which portray a Masonic design on at least one face of the bottle.  These flasks comprise Group 4 of American Bottles and Flasks and their Ancestry.  In this group, several molds are quite rare and some examples are easily worth 30 to 50 thousand dollars.  It is more likely that the collector or antique dealer would come across more common examples like the GIV-1 made in Keene, New Hampshire.  There are plenty of examples to be found in aqua, although in amethyst it would be considered extremely rare.
Reproductions
There are a considerable number of modern Masonic flasks in existence – I see them frequently on ebay and they are often described as authentic.  With a little bit of study, it is fairly easy to tell the old from the new.  The most obvious indicators are on the base of the bottle:  new examples have a well-defined rim around the outside edge of the base and there is no pontil mark.   On some occasions you will see the embossing, "OLD STURBRIDGE VILLAGE" but it is my experience that most do not have this lettering.  Colors of the reproduction include aqua, brilliant green and sapphire blue.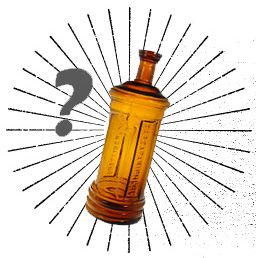 Got A Question about Your Bottle?
Ask it on our Discussion forum