Pittsburgh Glass Works, founded by James O'Hara in the late 18th century, operated under a succession of management after 1840.  The glass works was leased to Fahnestock, Albree & Company during the period 1860 to 1863.  Helen McKearin reports no other details about this company except to say the Van Rensselaer found in his research only this company to match the "F A & Co" embossing found on several flasks and bottles.
The embossing can be found on three Group 12 Union and Clasped Hands flasks: the GXII-40 pint, the GXII-42 half-pint and the GXII-42a half-pint.
Add to that the two bottles shown below which turned up on ebay during 2009/2010.  The first is a plain strap-sided whiskey flask which is marked F A & Co on the base. 7 5/8″ tall
The second is a blob top soda bottle embossed J. CAIRNS on the side and St. LOUIS on the reverse.    Near the base on the reverse is also the embossing  FA & Co. Has a half circle hinge mold seam and is 7-1/2″ tall
Update:
I have also found a similar aqua squat soda with the embossing H.GRONE & CO ST.LOUIS MO along with the FA & Co embossing.
To further display the range of products that this company produced, here is a base marked fruit jar from the company: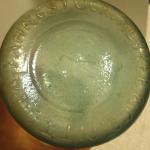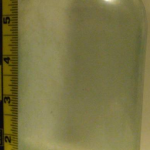 and another…
aqua squat soda marked H.C.SCHLIEPER & CO TERRE HAUTE IND is also marked "F A & CO" on the front near the base.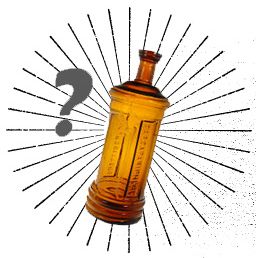 Got A Question about Your Bottle?
Ask it on our Discussion forum