Johann Hoff, The Bottle
Most people encounter a dark olive green bottle marked "JOHANN HOFF" on the bottle's shoulder. Occasionally they are found in other colors. There are other variants which are described below. The typical Hoff bottle measures 7-3/4″ to 8″ tall with a body around 3 inches in diameter. Some have applied lips, others have tooled tops. These bottles date from the mid 19th century into the early 20th century.
What Was Inside?
The Hoff product was malt extract and was marketed as a medicinal tonic those who were convalescing, with general disability, the weak, nursing mothers, etc. But the bottom line is this – this was an product containing alcohol, plain and simple. It was beer in medicinal packaging. Much like bitters, this was a clever way of selling alcoholic drinks to a public that wrestled with temperance and later, prohibition.
Collecting Hoff Bottles
The most common variant is the olive green bottle as described above which are marked JOHANN HOFF. These are found in abundance, that is, they are very common. This bottle probably makes my "Top 20 Most Common Antique Bottles of All Time" list. As for value, good luck. If you can sell one for even a few dollars, consider yourself lucky.
Less commonly seen are those in either a plain amber color, a light, translucent amber color as well as emerald green. While these colors are less common (and emerald probably scarce) this really does not add much to their appeal.
Another embossing variant is marked JOHANN HOFF / BERLIN on the body of the bottle. I consider these scarce.
Labeled examples are also scarce and will find greater interest. As always, the condition of the label is really important to value.
I wonder whether the company continued selling the product into the teens and 20's but perhaps in unembossed bottles. One advertising piece claims the company was founded in 1847 but I do not have accurate final date for the company. I do find them in the 1908 New York City directory as well as 1917-18.
Locations of business (in no particular order):
152-154 Franklin St., New York, NY
6 Barclay St., New York
90 West Street
Looking for help with the value of your Hoff bottle? Post photos and ask questions on our antique bottle forum.
The Hoff Marketing Machine
The Johann Hoff Company was fond of large advertisements in the periodicals of its time. Below are samples of several ads which utilized the endorsements of famous names including actress Viola Allen, operatic soprano Nellie Melba, Olga Nethersole, and a variety of military generals.
Competition
The sheer number of these bottles found today suggests malt extract was a popular product. The collector will find other similar shaped bottles both embossed and unembossed. The image below shows two amber bottles – on the left has no markings, the right is marked on the base PURE MALT DEPT / CA KING / BOSTON MASS. These two bottles date to the late 19th century. A later example of the King bottle with full label can be found on this page on the Smithsonian Institute website.
A Bit of Bottled History
Johann Hoff was a nondescript product but contained a wildly popular stimulating beverage. It is also counts itself in the minority of bottled products which may be best known for its legal battles, clever marketing, and huge popularity. That's more than you can say about most antique bottles today..
Sources
Journal of the American Medical Association (JAMA), Volume 61, Page 1552, October 25, 1913.
Johann Hoff v. Tarrant & Co., The Federal Reporter, Vol. 71, Feb-March 1896, pp. 163-167.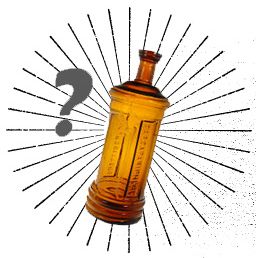 Got A Question about Your Bottle?
Ask it on our Discussion forum