The distinctive cabin-shaped EG Booz Whiskey bottle is certainly one of the most famous of American bottles and one of the most reproduced. This bottle was originally produced in 6 molds and originals are almost always amber or olive green in color, with rare aqua and clear.
Most reproduction Booze Bottles can be detected by studying the details of the corners of the peaks of the roof. In reproductions, the cut off corners of the roof will extend below the first row of shingles.
Distinguishing marks on repro examples include CB on the base, which stands for Clevenger Brothers of New Jersey. Examples marked "Nuline" or "Booz Bottle" are of more recent vintage.
BOGUS REASONS THAT A BOOZ BOTTLE IS AN ORIGINAL
There is no shortage of tall tales on the Internet – it is not hard to find an opportunist selling or auctioning an EG Booz bottle with a deliciously seductive story and plenty of hype. Here are bits of actual stories I have seen:
1. The bottle was found in the basement of a very old house. That is interesting, but it tells you nothing.
2. My grandparent collected this bottle. Therefore it must be very old. Yup, they may have bought it when they were in their 80s in 1975.
3. The bottle was found buried in the ground. Great! That dirt is millions of years old, but your bottle isn't.
4. I saw a picture online of a real one. Mine looks just like it. The proof is in the details. Read on…
TIPPECANOE AND E.G. BOOZ TOO!
New Jersey Glass and EG Booz expert Tom Haunton has written a book with CD-ROM entitled Tippecanoe and E.G. Booz Too!. This work covers both the six 19th-century cabin bottles described by George McKearin in his book, American Glass, plus all the known reproductions. Tom covers 31 repro varieties and there are undoubtedly more to come. It's meticulously researched and included are professional b/w photos throughout the text plus color images on the CD.
Tom sold out the printed copies of the book but he is still selling the book in PDF format on CD. If you are interested in purchasing a disc, contact us and we will put you in touch with him.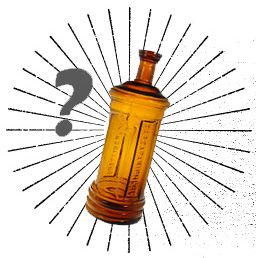 Got A Question about Your Bottle?
Ask it on our Discussion forum