Case gin bottles, also known as taper gins, were a common style used from the 17th through early 20th centuries.  The body is square in cross section and in all cases will taper from a wide shoulder to a narrower cross-section at the base.  This form is almost always found in olive green color ranging from translucent to opaque.  On occasion, you will encounter examples in clear and other green hues.  Other colors are rare – I have seen an example or two in cobalt blue over the years.
For an superb review of facts and references related to case gins, see Bill Lindsey's liquor/spirits bottle page.  Scroll way down to the Case Gin section.
Dale Murschell's book on Wistarburgh glass discusses case gins made at this 17th century glassworks in New Jersey.  As Dale states, Wistar advertised the form for sale and they were listed in his Will Inventory.    He shows many fragments and examples and discusses attributing form variants to the factory.  In short, Wistar examples are thought to be those which are quite boxy in form with a very square shoulder and a pronounced arc across the base edges.  This is a simplification of the data so be sure to consult with Dale's book for far greater detail.
Thanks to Dale's book and a discussion with Rick Ciralli earlier this year, I was inspired to snap a bunch of photos of gins at the Coventry Bottle Show in May.  There was a great selection of case gins there including a period chest full of gins. 
Here are the pictures: (click images to see larger views)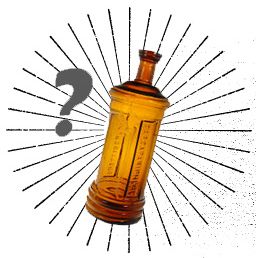 Got A Question about Your Bottle?
Ask it on our Discussion forum