Got questions? We have answers.
NOTE: I am closing commenting on this page – simple reason: most inquiries require photographs to answer – post your questions on the forum, preferably *with* photos. Go to http://forum.antiquebottles-glass.com
Before you fire off an email to us, please read the following to get your best response:
(1) Clearly describe what you have. If you don't understand antique bottle lingo, check out our Learn section. We need to know details about the bottle condition, the embossing or writing on the bottle, the mold seam, the lip and mouth, the base and the color.
(2) What do you want to know? We can't read your mind so tell us – is it value, where to sell, how to sell, where to buy, history or ?
(3) Do you need quick response or a detailed explanation? We do our best to answer quick questions, but if you need more of our time, then you need an appraisal. Time is money so please understand that we charge for appraisals and the personal attention that is required for phone calls, back and forth email discussion, etc.
(4) Photos, Photos, Photos! Pictures speak a thousand words. Need we say more?
—
Ok, you are ready to get in touch. You can post your question along with photos in our answers forum. We generally respond within a few days, often sooner. If you want speak with us on the phone, need a written evaluation of what you have or otherwise need a chunk of our time, then get an appraisal. Learn how appraisals can make you money. You can also send us an email. In most cases, we will direct you to our forum or to the appraisal process. See the "Contact Us" link in the lower left corner of every page.
If you have a question that can be answered really quickly and you think photos are not needed (Are you sure?) then you can ask it in the comment section below >>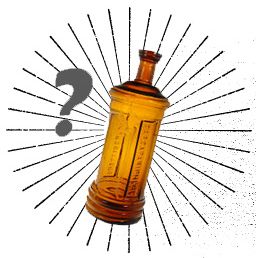 Got A Question about Your Bottle?
Ask it on our Discussion forum