So you have one or more bottles and you want to know their value? You are at the right place.
Fortunately, you have lots of options:
Ask a collector using email or a discussion forum.
Look at completed auction results on ebay.com for similar bottles.
Get an appraisal. I offer personalized service via email starting at $9.95
Go back to the books. There are many books out there to help you identify bottles. Some focus purely on value such as the Michael Polak Guide and the Kovel's Guides. See my books page for more info.
Review auction records. For many years Bill Brown published "The Auction Price Report" – more recently, Jim Mitchell has updated the guide. Current editions cost $80-100, but you can often find a slightly older copy which still has thousands of sales records on ebay.com for much less. These are invaluable reference books and are worth every penny to the serious collector. There are some general online resources for data as well such as ArtFact and LiveAuctioneers which have some bottle listings. There are also a few sites out there with searchable bottle-specific info such as Tod von Mechow's sodasandbeers.com
THE Important First Step!
Yes, this applies to you. Before you start on your investigative journey, assemble a proper and complete description of your bottles. I realize that for many, this seems unnecessary. However, especially if you are asking someone for assistance, be polite and make the job a bit easier on them. Your bottle description should include: the height, full text of all embossing on the body and base, a description of the mouth and base of the bottle, color, and an accurate description of the condition. Since condition is the NUMBER ONE determinate of value, you need to be honest and accurate. Little details matter in a big way.
Photos, Photos, Photos!
After assembling your description, move quickly to your digital camera and snap some clear photographs. Take the time to get good lighting, whether indoors or out and get accurate color as well as capturing all the details of the bottle: an overall view and a view of base are essential. A few close up shots can also be helpful.
Develop a Critical Eye
For any given specific bottle, there is always quite a range of value which depends on a number of key criteria. The single most important criterion is condition. Glass is fragile, so it gets damaged easily. Many of the collectible bottles out there have some form of flaw such as scratches and wear, bruises, chips, cracks, etc. To the uninitiated, every bottle is in "great" condition. I have heard that word applied in about 99% of all discussions I have had on the subject in the past 35+ years. However, condition gets down to a serious science for most collectors. It is not uncommon to see collectors examine glass with magnification and special lighting. Here is the bottom line: if you want to get bottle buyers to lay down serious money for the object you have, you need to give them confidence that you are carefully and objectively describing the condition.
Selling Your Bottle Via an Antique Bottle Auctioneer
I have always found that the average antiques enthusiast is particularly determined to sell their finds on their own. I admire their determination. The Internet has definitely made it much easier to locate ready and willing buyers, but selling to someone far away has its challenges. There is no substitute for holding a bottle in your hands and examining it prior to purchase. The bottle auctioneer bridges the gap and provides a valuable service. I know that if Norm Heckler or John Pastor (and other auctioneers) are calling a bottle "mint," then I know what they mean. I also know that they stand behind their descriptions, so I can purchase with confidence. I think many will find that the 10 or 15% seller fee is well worth the money. That fee is comparable with all the costs involved in a typical ebay
transaction, and you do not have to pack and ship.
Have fun and happy collecting.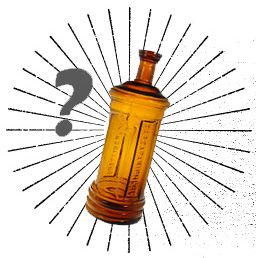 Got A Question about Your Bottle?
Ask it on our Discussion forum