Here are some tips to get better quality photographs of glass objects:
Take photos in natural daylight. Often a cloudy day or diffuse northern light is better than bright sun.
TRIPOD – If there is one word that makes close-up photos better, it is the tripod. Buy an inexpensive one, borrow one or make-do with a stack of books to hold the camera steady while you take the shot. Guaranteed better results!
Image Stabilization – As of late 2006 / early 2007, image stabilization is becoming common in digital cameras (both DSLR and Point /Shoot) – this helps immensely but is still not, in my opinion, a substitute for using a tripod.
Take a series of photos in different lighting and camera settings. Experimenting will yield better results.
Also try shooting photos in a well lit window with the light perpendicular to the object. Taking your picture with the light coming across the object from the side (known as rake light) often gives better contrast and less reflection off the glass.
Get to know the manual controls on your camera. It is not as easy as using a camera in point-and-shoot mode, but experimenting with differing apertures and shutter speeds will lead you to better results, esp. with artificial light and no flash.
You do not need an expensive camera to get good results. While it is true that newer cameras tend to produce better pictures in a wider variety of lighting, you do not need to purchase a digital SLR or super expensive model. We have heard that even an inexpensive camera like the Canon PowerShot A550 takes great macro shots and it is available under $200 (as of mid-2007)
Sending Photographs to Historic Glasshouse
If sending a digital photograph, we prefer a .jpg, .gif format image. Contact us to request an email address to which you can send photos directly.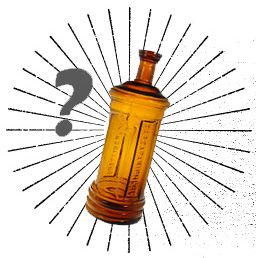 Got A Question about Your Bottle?
Ask it on our Discussion forum