Patent Information found on antique bottles can be an excellent source of information to help you date your bottle and find out information on the history of the bottle manufacturer and their design.
By far the easiest way to make use of patent information is to check the patent number on your bottle with the following patent date chart. It can quickly give you an approximate date when the patent was issued, and thus some idea of when the object was made.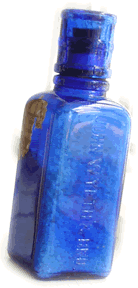 Patent copies are the diagrams and text that an inventor submitted to receive his or her patent. They contain scaled drawings of the invention or design along with a detailed description of the construction and function. The sample patent provided here shows the invention of a measured dose cap fitted as a closure to this unusual but somewhat common late-19th century John Wyeth pharmaceutical bottle.
The United States Patent and Trademark Office (USPTO) issues patents for inventions, as well as trademarks for names, words and symbols. The USPTO web site allows one to search their database for patents issued after 1976 only. Antiques buffs need to research earlier patents at their local library or contact an online service such as http://www.uspat.com. Jim Bieberich at uspat.com provided the .pdf for the patent on this page. For a few dollars, you can get a patent copy as a .pdf file (requires freeware Adobe Acrobat Reader to view) in a day or two.
Some patents begin with a letter or series of letters. Most antiques researchers will come across a number with a "D" at the beginning, which indicates a Design Patent. A design patent is issued for form rather than function. These were numbered separately from utility patents and began in 1854.
It is interesting to note that the US government started issuing patents in 1790 but did not start numbering them until 1836. Thus, for 46 years, thousands of patents were issued without numbers. Patents for this era have since been numbered in a series beginning with an "X". Bottle collectors and enthusiasts will find that the majority of bottle-related patents were issued later in the 19th century and thus carry a patent number without an "X"prefix.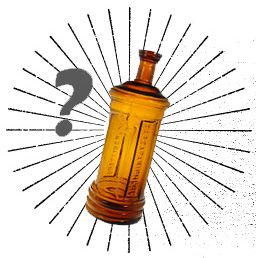 Got A Question about Your Bottle?
Ask it on our Discussion forum